Rush Booklet Printing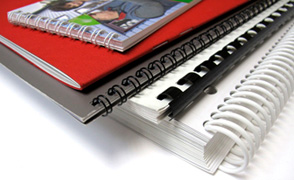 Booklets give clients an option that, in terms of size, is between books and brochures. These miniature books can be used by companies in a variety of ways, including to promote products or services and to provide information. Here is a further explanation of booklets, how they are useful, and the options possible with our Los Angeles rush booklet printing services.
Made from single sheets of paper, brochures offer multiple pages but are folded rather than bound. By contrast, books include many sheets that are held together by spiral binding, staples, or similar methods. Booklets may contain anywhere from five to forty-eight pages, and can also be bound in different ways. In terms of content, booklets are often informative, but can be used for promotion as well.
Rush Booklet Printing Los Angeles
Companies can find uses for booklets in several applications. As part of promotional campaigns, booklets can act as catalogs, references, or both. Many businesses order booklets for use as policy manuals or training references that employees can consult as necessary. Other uses for booklets include coloring books, puzzle books, and show time listings. This is only a sample of the applications for our Los Angeles rush booklet printing services, which our clients use for many purposes.
Booklet customization can be achieved in many ways when companies use our print shop for rush booklet printing in Los Angeles. For instance, a number of paper stocks can be used for covers and interior pages. Different inks, colors, and formats are available, and your choice of multiple bindings may be possible depending on the booklet type. Prior to printing, our professional designers consult with clients to develop a booklet that includes all required graphics in an appealing package.
The many options that booklets offer make this print product especially versatile for companies and consumers. Every project from our rush booklet printing in Los Angeles is designed and produced quickly, as well as accurately to satisfy short deadlines. To learn more about our booklets, clients can contact our printing shop in Los Angeles online, by phone, or in person.