Rush Business Card Printing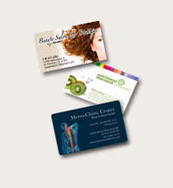 Business cards are exchanged every day between business professionals and their clients and partners. As an essential material for self-promotion and networking, business cards reflect on those they represent. This illustrates why polished design and production should be used for the best effect in these print products. With our Los Angeles rush business card printing services, professionals can get their own business cards created to their specifications on a timeline that fits their schedule. Read more about this service, including how it benefits clients and what options it provides, below.
There are several reasons why professionals should take business cards with them wherever they go. At both formal and informal events, professionals may encounter potential connections that are mutually worthwhile for business purposes. Having business cards helps ensure that these connections are fostered rather than lost. Meanwhile, business cards can also take the place of flyers in certain situations. Business cards are easy to hand out individually or leave in stacks inside storefronts, possibly securing important leads in the process. Using our rush business card printing in Los Angeles means that professionals can always have these materials ready for such opportunities.
Rush Business Card Printing Los Angeles
Customization is the key to effective business cards, and there is no lack of options for achieving this through our service. Our designers are adept at making business cards that accurately represent the interests of clients, but clients can also contribute their own pre-made designs for their cards. A variety of paper stocks, inks, and finishes can be used with our Los Angeles rush business card printing services to further optimize results.
Effective business building is performed most easily with the right business cards on hand. By using our business card printing services, area professionals have a powerful option for maximizing their success. A host of options are offered, so clients can count on being able to get business cards that meet their requirements precisely. Clients can contact our print office to find out more about our options for rush business card printing in Los Angeles.