Rush Catalog Printing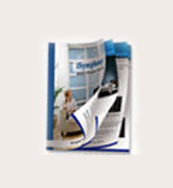 Printed catalogs remain vital business tools for promotion, lead generation, and sales. Even as websites are used by most companies, catalogs are valued by markets for a variety of reasons, including tangibility and ease of reference. Moreover, catalogs can be used as complements to online advertising efforts. The following is a look at our Los Angeles rush catalog printing services, which benefit clients in several ways and provide numerous options for perfecting this print product for any project.
Through advertising and onward through sales, catalogs help companies succeed in several ways. When a company gives catalogs to consumers, it exposes them to the goods and services it has available. Catalogs are ideal for distribution not only at storefronts, but also through direct mail campaigns, allowing companies to maximize their promotional results. After consumers have catalogs, they can spend time learning about the goods and services being offered and can look back for reference before future purchases. If competitors have similar offerings, consumers can use catalogs to confirm that one company has the better deal. Finally, the products of our rush catalog printing in Los Angeles can be shared between consumers quickly and easily.
Rush Catalog Printing Los Angeles
Like any project undertaken by a company, catalogs benefit from first being planned to completion. The planning phase of our Los Angeles rush catalog printing services includes a consultation with on-site graphics professionals, who are experienced at designing and formatting catalogs for different types of companies. Logos, trademarked images, and product photos can also be furnished by clients for incorporation into catalogs. Different paper stocks for covers and interior pages can be used with a variety of inks and finishes to produce results that are bound to impress recipients.
Catalogs are crucial to succeeding in any business involving sales of products or services. While catalogs are often designed to lead directly to sales, these print products can also be developed as mainly informational references that encourage sales leads. Companies can contact our printing shop to learn more about our rush catalog printing in Los Angeles and the many options this service includes.