Rush Envelope Printing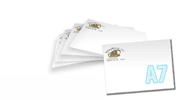 By encasing mail, envelopes play an important part in both business and consumer relationships. While many people address blank envelopes individually, this practice can be inefficient when large volumes of mail need to be sent. Our Los Angeles rush envelope printing services can improve output in these and other situations. Particularly when mail is sent for business purposes, pre-printed envelopes save time, establish credibility, and even increase brand awareness depending on the goals of the sender. Here is a look at our envelope printing options and how this service can be leveraged by clients.
The options included with our services for rush envelope printing in Los Angeles maximize applications for these print products. Every envelope project is developed individually, and logos can be added along with text. If clients prefer, our graphics professionals can create totally new envelope designs. Plenty of inks are available to express company logos accurately and highlight info as desired. Different inks and finishes can be applied for the right effect, and a host of envelopes can be custom printed for different uses.
Rush Envelope Printing Los Angeles
Customized envelopes can be used in many ways in business and elsewhere. For companies, uniquely printed envelopes offer an effective way to promote products and services, maximize direct mail campaign results, and establish credibility with letter recipients. For example, having envelopes bearing the company logo helps build respectability in the eyes of consumers. Furthermore, everyone who sees the custom envelopes will be made aware of the company using them. Direct mail campaigns can be enhanced with printed messages detailing envelope contents, and bills can be announced as such to better ensure acceptance. Non-business applications of our Los Angeles rush envelope printing services include invitations for events, such as weddings and graduations, as well as everyday personal stationery.
Rush envelope printing in Los Angeles lets clients boost their standing through business and personal mail without waiting long. Like all print products, custom envelopes benefit from top-quality equipment and an experienced staff. Area clients can contact our print shops to find out more about this service, its options, and applications.