Rush Flyer Printing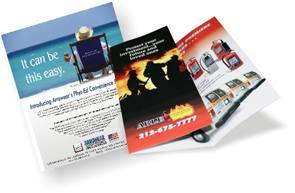 Flyers are low-cost, high-result advertising materials consisting of printed standard-size pages. Flyers can be used in a variety of ways, including mailed to existing and prospective customers, posted on public boards, and distributed by hand at virtually any location. Broad design options can be used to enhance virtually any effects clients seek through their use of flyers. The options included with our Los Angeles rush flyer printing services are detailed below along with the ways that clients may want to use these print products.
Like other customized print items, flyers from our printing shop are designed to the satisfaction of clients before production starts. Contact information, photos, illustrations, and logos are a few of the elements that flyers can include. Our graphic designers can create flyers according to the direction of clients, but graphical items provided by clients can also be included as desired. Our rush flyer printing in Los Angeles can be achieved using a variety of common paper sizes, ensuring compatibility with wall mounting, direct mail, and other uses. Folding can also be performed after printing with consideration to the designs used.
Rush Flyer Printing Los Angeles
Flyers make powerful promotional materials for virtually any application planned by clients. In direct mail projects, clients can send eye-catching flyers to customers for reliable engagement with the printed information. Sale information, product photos, and coupons are just a few of the elements that may be worthwhile to include in direct mail flyers. Flyers destined for posting on walls can be printed with larger text for readability from a longer distance, creating affordable miniature billboards. The compact nature of flyers also allows for placement in stacks at storefronts, where customers can easily access these materials and take them along for later reference. Outside of business, consumers can use our Los Angeles rush flyer printing services to more effectively advertise garage sales, lemonade stands, or events.
Companies can achieve plenty with the right flyers, but high-quality design and materials remain vital to getting the most from this affordable print product. Our print shop works with clients from the start of flyer design to the last stages of production so that results meet and exceed expectations. Clients can contact our shop to learn more about our services for rush flyer printing in Los Angeles.