Rush Label Printing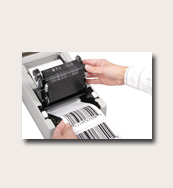 Labels are used for promotional and informational purposes in home and workplaces everywhere. Increasingly often, labels are being printed rather than handwritten in order to save time, improve legibility, and enhance promotional effectiveness. Printing also offers other advantages, including extra design options and inclusion of unique graphics. Clients who recognize these benefits may be more likely to use our Los Angeles rush label printing services and see improvements in their productivity as a result. Here is more about this service, including the options offered and the applications for which is it worthwhile.
Clients can visit our print shop to discuss the design of their customized labels, including what text, fonts, and graphics to use. Desired graphics can be taken from pre-made materials or made new. While many labels are printed on paper, clients may prefer vinyl for improved durability, especially in exterior settings. Labels are available in a range of sizes to suit the applications that clients have in mind. Different ink colors are offered, including lightfast types, as well as both glossy and matte finishes. Our rush label printing in Los Angeles can meet the needs of virtually any project of any size.
Rush Label Printing Los Angeles
The time-saving effects of our Los Angeles rush label printing services are worth considering for any business or individual. The less time that clients spend making labels, the more they can spend on other, more important tasks. Labels are valuable for organizing industrial or office environments, including tools, parts, and other equipment, indicating ownership or proper use. Products can also use labels to convey information to consumers and enhance promotional impact.
High-quality labels can be smart additions to practically any workspace or living environment. Besides improving efficiency by aiding organization, these labels can complement many advertising projects. While all printed labels may save time over their handmade counterparts, professional design and production will optimize the quality of these print items. Our print technicians and designers are experienced at making labels that perform well in virtually any setting. To learn more about our rush label printing in Los Angeles and its uses, clients can contact our printing shop in person, by phone, or through email.