Rush Mug Printing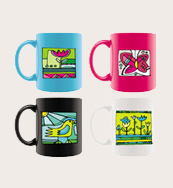 Commonly used for drinking coffee, tea, and other hot drinks, mugs are practical items worth customizing for business and other purposes. A variety of graphics can be used with our Los Angeles rush mug printing services, including text and pictorials, to create products that are aesthetically pleasing and memorable. Below is more about this service, including what it does for businesses and consumers, and how our printing office provides custom mugs.
Branding and advertising efforts can benefit from using a wide range of items, including mugs, for impressive results. Unique mugs are likely to be valued and used regularly by recipients, increasing brand exposure. The best mugs can even potentially be sold, letting customers announce their brand preferences to others. Within businesses, the products of our rush mug printing in Los Angeles can be given to employees as expressions of company cohesion.
Rush Mug Printing Los Angeles
Family and friends often appreciate personalized gifts, such as mugs. These items can be printed with names, artwork, and even photographs to make birthdays and holidays extra special. Parents and their children can also have their designs printed onto mugs for use in their own home. Every time consumers use the products of our Los Angeles rush mug printing services, their enjoyment of a hot beverage may be amplified.
Our print shop gives clients plenty of choices to make their mugs unique. Depending on the client, the printed design can be made from previously existing creations or by our professional designers. A variety of durable mugs can be used, including ones of different colors and sizes. Different inks are available, such as matte and glossy types, to give clients the effect they prefer. Our rush mug printing in Los Angeles can be used for just one mug or many, many more.
Customized mugs can be printed with an array of graphics to meet the needs of companies and consumers. This next day printing service lets clients get results quickly, resulting in a streamlined experience from design to production. Clients can contact our print office to learn more about the options and applications for printed mugs.