Rush Sign Printing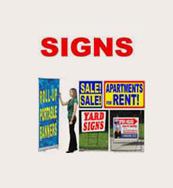 It has been said that every business needs a sign, and this is true whether a company is first opening or looking to promote a sales event. Our Los Angeles rush sign printing services gives area businesses fast results with plenty of options to distinguish their brand among the market. Here is more about this service and what it offers to not only companies, but consumers.
Signs are used in countless ways inside and outside of commerce. Every business dealing with the public should have a sign to announce its presence to people who live and work nearby. Using our rush sign printing in Los Angeles for just one sign can provide years of effective advertising, making it a more powerful investment compared to ads in newspapers, television, and other media. Consumers can benefit from custom signs to promote garage sales, lemonade stands, and other events they are holding.
Rush Sign Printing Los Angeles
Signs can be customized to meet practically any purpose through the exacting design of text and graphics. A full range of text styles, including several fonts and sizes, can be used to reflect the personality of a project and reach viewers near and far. Signs in various shapes and sizes are also available from our Los Angeles rush sign printing services.
Clients seeking signs can first discuss their goals for this project with our print personnel. Logos, trademarked photos, and other graphics can be incorporated into signs as clients prefer. Before starting the printing process, our designers will confirm that the clients are happy with their designs. A host of different inks and finishes can be used for durability and appropriate appearance indoors and outdoors. One sign or many can be obtained through our rush sign printing in Los Angeles.
Whether you need a new sign for the first time or a replacement for an old sign, you can visit our print shop for an effective solution. Our next day printing in Los Angeles ensures that you will have the results you need quickly so you can get your project finished right and on time.