Rush Sticker Printing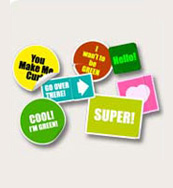 Stickers give clients an affordable option for displaying graphics and information virtually anywhere. Backed by adhesive and available in both paper and vinyl, stickers can be affixed indoors or outdoors by companies and consumers alike. Plentiful design and production options enhance the flexibility of our Los Angeles rush sticker printing services. Here is a deeper look at why clients choose stickers, where this medium works best, and how our print shop offers this product.
An amazing list of applications awaits clients who choose stickers, which work well for promotion, creative expression, and more. As worthwhile additions to marketing campaigns, stickers let companies promote products and services without relying on more complex mounting solutions. QR codes and contact information can be included on stickers to encourage sales leads. Consumers often enjoy having their artwork and photographs printed onto stickers, which provide portable self-expression. Compared to larger print items, the products of our rush sticker printing in Los Angeles often let clients get more copies for a smaller investment.
Rush Sticker Printing Los Angeles
Because stickers rely on their adhesive backing to stay in place, they will stick best on smooth, dry surfaces. Popular settings for stickers include windows, vehicles, and signs. Clients can transport large quantities of stickers from our Los Angeles rush sticker printing services to areas where they can affix the stickers themselves or give them away. Parties, festivals, and conventions are a few places where this can be done.
Clients can designate exactly how they want their stickers to be made regarding content, design, size, and materials. Designs can be supplied to our print shop or created by our professional designers with guidance from clients. Stickers of many sizes are available, from small to ones only possible with large-format printers. Our rush sticker printing in Los Angeles can also incorporate numerous types of ink and colors.
Clients can come to us to get a print product that can be used to express or advertise anywhere. As a next day printing job, stickers give clients a quick, reliable option for completing their projects. Clients can call, email, or visit our print shop to find out more about our print options for stickers.