Rush Vinyl Lettering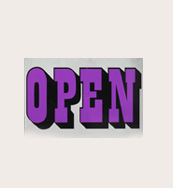 Vinyl lettering is a leading choice for modern signs. Design and production offers many options, and installation is fast. Installed vinyl lettering can be removed quickly without leaving any traces behind, but clients can also leave it in place for years before replacement becomes necessary. Here, you can read about the versatility of our Los Angeles rush vinyl lettering services, how this product is used, and how we make it to your specifications.

Practical and Decorative

One might expect that vinyl lettering offers mainly utility, but this material and process is also an excellent choice for decoration. The vinyl material is available in many colors, ensuring easy matching with surrounding graphics and architecture. A host of different fonts and text sizes can be cut precisely, so you can get the aesthetic results you need for any circumstance. The ease of removing vinyl also makes our rush vinyl lettering in Los Angeles ideal for temporary displays during holidays, promotions, and other events.

Business and Personal Projects

Whether you need window lettering for a permanent business sign or a temporary place at home, you will find that our Los Angeles rush vinyl lettering services deliver excellent results. You can use this lettering on storefront windows, vehicle windows, vehicle doors, and practically any other smooth surface. Display of contact information, promotional details and other text is simple with this print product. Self-expression is almost unlimited with vinyl lettering, so you can count on being able to tailor your project to your personal space.

Your Options for Vinyl Lettering

You can specify every aspect of design for your rush vinyl lettering in Los Angeles. Once your design is ready, you will have control over when to proceed to the printing stage. Your printing options will include a variety of vinyl colors and types, and the lettering sizes available range from small to very large.

Vinyl lettering has simplified modern signage significantly. You can visit our next day printing office in Los Angeles to get vinyl lettering that is durable enough for long-term display at your business or home. To learn more about this service, you can contact our print shop online, in person, or by phone.