Rush Window Perf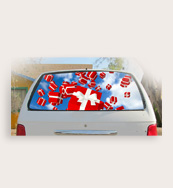 Window perf is thin perforated vinyl with adhesive on one side, allowing it to stick to windows and letting those on either side see through. Many applications exist for this print product, which is used on many storefronts and public transportation systems. Consumers outside of businesses can also find uses for window perf for self-expression and other purposes. Here is more about our Los Angeles rush window perf services, including how these products are made and how they can be used.

Where Is Window Perf Used?

Virtually any glass surface can be used to display window perf. In many cases, the material is used on storefront windows, letting company owners advertise their goods and services over a significant distance. Buses and trains in many cities are also covered with window perf, generating ad revenue for the transportation companies. The products of our rush window perf in Los Angeles can also work well on windows at home and on personal vehicles.

How Does Window Perf Help Clients?

Some clients may wonder when they should use our Los Angeles rush window perf services rather than choose opaque materials. The transparency of this material is the key to its advantages in certain cases. For instance, having window perf on the front of a store lets those inside continue to see outside. The partial light blocking that window perf brings also can keep interiors cool, reducing heating costs as a result. In vehicles, the ability to see outwards is clearly essential for safety, making window perf an excellent option for expanding display surface area on vehicles.

What Options Are Offered for Window Perf?

Like other print products we offer, our window perf can be customized to the applications that clients have planned. Size, shape, and color can all be specified, and the design can be made by our graphics professionals or adapted from provided artwork. The inks and materials used for our rush window perf in Los Angeles lets clients relax knowing that their results will last outside in the elements.

Window perf is a versatile option for workable displays on windows. Image quality is superb, but visibility is also maintained. Clients can visit, call, or email our next day printing center in Los Angeles to learn more about this product and its many options.